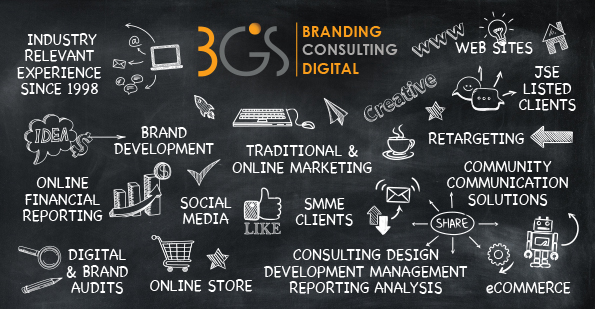 To navigate, either click around on the above 3G's blackboard, on the below MHO image, use the top navigation, alternatively enjoy scrolling through our website
Welcome to the combined 3G's and Marketing Head Outsource (MHO) website. Providing effective, experience-based, specialist marketing and sales-initiating communication solutions since the mid 1990's.
The 360 +1 degree view on effectively marketing your business for success.
Rather than have separate websites, for your convenience, we are providing all aspects that we believe are important to successfully marketing your business in one easy to cross-reference website.
3G's is a traditional and digital marketing agency offering a complete fulfilment of planning, design, implementation, measurement, reporting, and management solutions of marketing collateral from name origination and logos, through to effective social media and websites.
MHO is a traditional and digital marketing strategy, and fulfilment directing, solution provider. Initially an integrated part of the 3G's offering, MHO has been distilled into its own complete stand-alone solution offering. Depending on your needs MHO can operate as a consultancy, or an agency, or an Outsourced In-House Marketing Solution.
3G's and MHO operate as standalone solution providers, can work with your preferred providers in various marketing areas, or can provide a bundled 3G's MHO solution – depending on your business or organisation's specific requirements.
Too often marketing and marketing communication is ineffective in terms of reaching its intended sales and marketing goals, costing the organisation risk, money, opportunity cost, and morale. We believe that your marketing should work hard for your organisation. We work hard to make that happen.
Our overriding objective is to create effective communication that will make a positive and measurable impact on your organisation: enhancing your reputation, reinforcing your brand and market position, and helping you realise your organizational goals and ambitions in terms of sales and servicing.
We give your brand its expression: planning the marketing deliverables, designing and delivering attractive and engaging recipient/user experiences, honing your marketing so that users can find the information they want quickly and easily that you desire them to access, and driving call to action be they marketing, sales, service related.
This way 3G's and MHO focuses on meeting your business, marketing and communication needs today, as well as provides support for what you want to achieve tomorrow. Click to see some of the clients we have assisted.
We combine creativity and strategic thinking following our process of Audit, Strategy, Consulting, Design, Implementation, Tracking, Management, Reporting, Analysis & Interpretation, and looping back into the Consulting phase as and when relevant. Depending on the nature of the solution provided will determine the extent and nature of the above applied to any specific initiative.
Our service starts long before a pixel is drawn or a line of code is written – and continues long after your marketing is in use. Ours is an ongoing commitment to ensure that your marketing remains effective for you for its entire lifetime, whilst extending that lifespan as far as feasible. And when the time comes for an overhaul, we will be there with the relevant knowledge to plan its next efficient and cost-effective incarnation.
Marketing Head Outsource (MHO) – Your Outsourced In-House Marketing Solution.
Providing the following marketing solutions:
Audit

Composite marketing assessment (internal & external) applied to:

Digital Marketing
Traditional Marketing
Integrated Marketing

Organizational understanding

Strategy

Leverage audit outcomes and translate the business strategy or vision into an enabling marketing strategy.
Can be a

Digital Marketing Strategy, Traditional Marketing Strategy

, or an

Integrated Marketing Strategy

Implementation

Break the marketing strategy down into

actionable defined specific deliverables

Fulfilment directing

of solution providers

Connect & enable

the spheres of your business

Mindful marketing

practices

Impact

Consistently

communicating organizational quality, enabling sales

, aiding

sustainable value building and brand equity growth

, correct

tracking reporting and analysis

, marketing as part of facilitating

business succession

.

Management

Managing

marketing fulfilment related resources

(internal people, external suppliers & collateral administration).

Team Member

Being a team member with onsite and offsite presence as/if needed.

For when any of these ring true in your business:
Expensive marketing consultants, marketing agencies, branding or creative agencies aren't

sufficiently part of

your business in-order to realistically fulfil your marketing needs within the

day-to-day realities of your business

.
Casual and/or internal resources aren't

experienced and/or knowledgeable

enough in

traditional marketing and/or digital marketing
Your business does not justify full-time

marketing resources at strategic, management and implementation levels

, be it driven by capacity utilization considerations and/or budget allocation decisions.
Depending on your needs

MHO can operate as a consultancy, or agency, or an Outsourced In-House Marketing Solution

.
The majority of our clients are established midsized to large companies. Though that is not exclusively the case – it is subject to

how your needs and our services can be aligned

.
Traditional / Offline Marketing
At 3G's we combine branding and traditional / offline marketing under one pillar of our business, though this pillar works closely with our online / digital pillar, as well as the rest of the service offering areas.
A brand is a promise made to the customer to deliver certain tangible and intangible values each time the offering is engaged with and/or acquired.
Branding is a process which involves creating a specific name, logo, and an image of a particular product, service or company across a multitude of touchpoints. This is done to attract customers. It is usually done through applying a consistent and unifying theme.
Branding aims to establish a significant, consistent and differentiated presence in the market that attracts and retains loyal customers. A brand incorporates amongst other things, a name, term, symbol, or other feature that distinguishes an organization or product from its rivals in the eyes of the customer. Brands are used in business, marketing, and advertising.
Following our well proven process we create, refresh, or redirect your brand and then roll it out to the various specific brand collateral items your business utilizes.
Online & Digital Marketing
Digital marketing encompasses all marketing efforts that use an electronic device or the internet. Online marketing is simply a subset of digital marketing and refers to content delivered via the Internet. Businesses leverage online channels such as search engines, social media, email, and websites to connect with current and prospective customers.
Online and digital marketing are integrated with, dependent on, and in-turn inform the various marketing solutions aspects provided by MHO. For more on audit, strategy, defining implementation, impact and management see Marketing Head Outsource.
The main types of online digital marketing that 3G's offers includes:
Affiliate Marketing
Content Marketing
Email Marketing
Influencer Marketing
Mobile Phone Advertising
Online Financial Reporting
Search Engine Marketing (Paid & Organic)
Search Engine Optimization (SEO)
Social Media Marketing (Paid & Organic)
Viral Marketing
Web Sites
Digicard is an interactive digital business card that makes it super easy to engage with your leads and convert more customers. It's a business tool on steroids
Business card

Company profile

CRM

Adverts and special offers

Contact request form

Hot links

Sales pages

and so much more.

All on one screen that can be shared to any device. It works well as a mini-web site or as an extract of your larger more expansive web site.
Add live links to your social media platforms, your website, special offers, opt-in pages, portfolio, gallery, testimonials, shopping cart, booking form, and more.
Add images of your projects or load banner ads to display specials and promotions. Create landing pages on your DigiCard for specials and promotions. Add your unique URL to your email and document signatures. No fuss, no apps to download. Share in seconds via WhatsApp or QR code.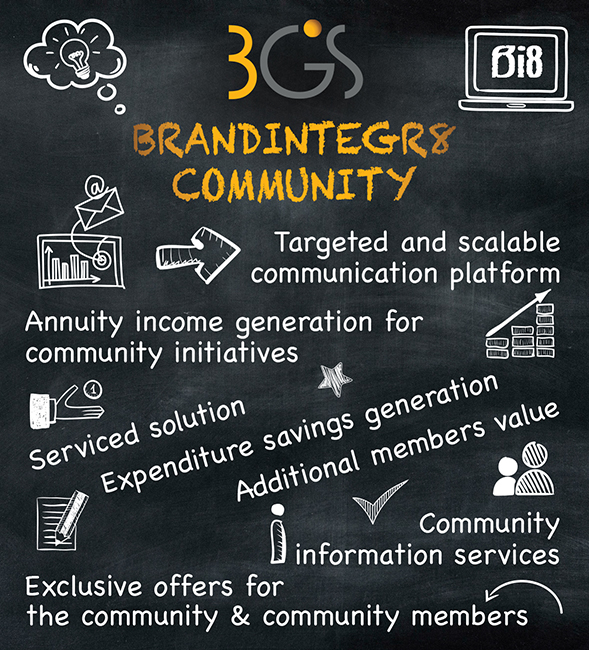 Community Platforms, Members & Advertisers
An online community platform is an online space where a group of unified individuals (community) are enabled and encouraged to interact with each other and have engagement and/or exposure to service/product providers relevant to their common interest.
MHO undertakes the consulting, measurement and analysis related to the community platform, 3G's undertakes the designs, development and maintenance of the community platforms.
There are numerous functions and facilities that 3G's can directly make available to members as part of the platform development. Should additional income streams as well as possible expenditure savings be required as part of the platform offering, we partner with BrandInteGr8 who specializes in the field of third party advertising income generation platforms for unified communities.
The first image alongside highlights an extract of the combined 3G's – MHO – BrandInteGr8 value-propositions to communities.
An online community platform is an online space where a group of unified individuals (community) interact with each other around common purpose and have engagement and/or exposure to service/product providers relevant to their common interest.
There are numerous functions and facilities available to members as part of the platform development. The image alongside highlights an extract of the value propositions to communities.
Seeking to target a specific group of unified individuals via the digital platform where they are actively interacting with each other?
3G's and MHO creates the eCommerce-enabled community platforms for BrandInteGr8.
BrandInteGr8 offers your business the opportunity to effectively advertise to targeted communities within specific geographic areas, various sporting and leisure codes, and groups unified around common interests. Your business will be positioned within these communities and enjoy relevance, endorsement and advocacy.
An intranet is a computer network much like the internet, though its focus is sharing of information, collaboration tools, operational systems, and other computing services within an organization, usually to the exclusion of access by outsiders.
An intranet is an effective way for a company to store knowledge, connect people, find and store files, share company updates and collaborate in teams, departments, or groups – from anywhere in the world with a network connection. Most intranets are used to increase employee engagement, make an employer brand more visible or to simply give employees a voice in the company.
Many modern intranets as developed by 3G's have search engines, user profiles, blogs, mobile apps with notifications, and events planning within their infrastructure.
An intranet is sometimes contrasted to an extranet. While an intranet is generally restricted to employees of the organization, extranets may also be accessed by customers, suppliers, or other approved parties. Extranets extend a private network onto the Internet with special provisions for authentication, authorization and accounting (AAA protocol).
MHO undertakes the consulting, measurement and analysis related to intranets, 3G's undertakes the designs, development and maintenance of intranets.
An extranet as developed by 3G's is usually an extension of an organisation's intranet, where its focus is extending the sharing of information, collaboration tools, operational systems, and other computing services within an organization to partners, vendors and suppliers or an authorized set of customers – normally to a subset of the information accessible on an organization's intranet.
Historically the term was occasionally also used in the sense of two organizations sharing their internal networks over a virtual private network (VPN).
Extranets extend a private network onto the Internet with special provisions for authentication, authorization and accounting (AAA protocol).
MHO undertakes the consulting, measurement and analysis related to extranets, 3G's undertakes the designs, development and maintenance of extranets.
Websites can be used in various ways and combinations of ways: a marketing site, a sales site, a service site, an operations web site, an eCommerce site to name a few. Web sites even vary how they are used by similar organisations in the same industry, and can be purely broadcasting in nature by the site owner/operator, or vary with different levels of User Generated Content (UGC) and multi-direction engagement.
Your website needs to:
Uniquely 

reflect your business.
Stand apart in 

attracting users and business

 to you as opposed to a competitor.

Enhance your brand

 and reputation through its appearance and functionality, and the quality of the user experience.

Be accessible and easy to use

 with quick, clear access to relevant information, features and services.

Deliver objective, measurable benefits

: cutting costs, increasing revenue, expanding market reach.

Whilst leveraging appropriate:
Content management

Hosting

Reporting

SEO

SEM

Content Management
A content management solution, CMS, puts you in control of your web, intranet and extranet site. Easy-to-use, not requiring any special training nor specific software, our content management 

systems 

make 

maintaining even complex sites manageable and cost effective

.
Our content management systems are all based on our core, modular framework. This means they are 

highly customisable and easily extendable

. You can use them to manage a single page or an entire web site, seamlessly integrating with the design, technical features and existing backend systems.

Consistent appearance, form and function

. The appearance and functionality of your site never needs to be compromised. Whether you are using the system to manage a few pages or your entire site, the integrity of the site is maintained.

Easy-to-use site management

. Unlike many other content management systems we place a premium on ease of use. Anybody within your organisation that knows how to operate the basics of a computer will be able to utilise our system. The content for your site is managed through a secure, web-based administration area allowing you to add and update the system controlled content of your site anytime from anywhere as long as you have access to the web.

Adaptable and Extendable

. The modular format means you only pay for the areas of application and for those features that are relevant to your needs, while having the peace of mind that the system can be extended in the future to offer more advanced and/or wider application, should you require it.

Hosting
Our fully managed service takes the worry – and time – out of setting up and maintaining your web hosting service. We use secure and reliable servers set up in a well-managed facility on the main international backbone, as well as cloud hosting, to provide excellent connectivity and up-time performance. Our hosting solution is extremely flexible and can be set up to suit almost all requirements, up to and including high web space, high bandwidth and dedicated server hosting. We select the relevant hosting solution for your site (in terms of capacity, speed and cost) and this can grow and change as your needs evolve over time hence you are only paying for what you need at present.
Our hosting solutions compliments our consulting services through relevant site usage tracking, reporting and analyses.
Reporting
Do you know who is visiting your website? Or why it's so important for your business that you know?
Website visitor tracking allows you to see who is visiting your website and, based on their trackable behaviours:
Why they're on your site,

What their issues, interests, and/or pain points are, and

Where they are in the buying process.

The ability to "see" what individuals – both known and anonymous visitors – are doing on your website gives you the ability to appropriately target them, meaning you can deliver valuable content that's tailored to their needs and encourage them to take the next step you desire them to take.
SEO
We have extensive experience in understanding search engine optimization (SEO) as an integral part of site planning and development. But what is SEO?
Search engine optimization (SEO) is the process of improving the visibility of a website or a web page in search engines via the "natural" or un-paid ("organic" or "algorithmic") search results. In general, the earlier (or higher ranked on the search results page), and more frequently a site appears in the search results list, the more visitors it will receive from the search engine's users. SEO may target different kinds of search, including image search, local search, video search, academic search, news search and industry-specific vertical search engines.
As an web marketing strategy, SEO considers how search engines work, what people search for, the actual search terms or keywords typed into search engines and which search engines are preferred by their targeted audience. Optimizing a website may involve editing its content and associated coding to both increase its relevance to specific keywords and to remove barriers to the indexing activities of search engines. Promoting a site to increase the number of backlinks, or inbound links, is another SEO tactic.
The term "search engine friendly" may be used to describe website designs, menus, content management systems, images, videos, shopping carts, and other elements that have been optimized for the purpose of search engine exposure.
MHO undertakes the consulting, tracking, measurement and analysis related to websites, 3G's undertakes the implementation planning, designs, content and image incorporation for websites.
Executive Summary
3G's founded in 2007

MHO split out of 3G's 2022

All founders have been in marketing, branding, business management and digital / online communication 

since the mid 1990's

Principals daily hands-on

 involvement

Qualifications 

include

BComm. Marketing
Design Diplomas
Program in eCommerce
BTech Multimedia
IT Specific Project Management (Levels 1 -3)
Technology Qualifications

Clients have included

 amongst others:

Multi-Nationals
JSE listed companies
Government agencies
National Lottery South Africa
Gautrain
Small Medium and Micro Enterprises (SMME)
One-man operations
Volunteer only operations

We As Marketing & Business Solution Providers
Are a 

specialist communication and marketing agency

 offering a complete consulting, design, implementation and management solution
Have an 

experienced multi-faceted specialist team

Leverage our 

organisational learnings

 to date
Have substantial experience 

collaborating with third party

 vendors
Have our 

proven processes and procedures

Limit the risk of 

time, money, and client reputation

Maximize synergies

Leverage 

service and cost efficiencies

Retain a high level of 

creativity, professionalism and quality

 outputs
Have undertaken 

standalone projects

 as well as 

multifaceted projects

 that may or may not integrate to third party vendors offerings
Have aided clients with 

operational improvements

 and 

increased productivity

.
Are 

grateful to our clients

, some of whom are still with as from the very beginning
Have working relationships with of our clients, within the context of what 3G's and MHO provides, 

going back to 2002

.

So what is in 3G's Branding Consulting Digital name and logo?
3G's for

3 founding

guys
The

dot

associated with the

web, being on point, leaving nothing incomplete

Detailing

our offering

Branding

solutions

Consulting

solutions

Digital marketing

agency

The best possible

search engine ranking

for an organisation of our size and nature.
Hey, in addition to all the

strategic

thinking that went into our name – it's

fun and easy to remember

and serves as a nice ice-breaker
Now you

remember 3G's

as well.

And Marketing Head Outsource?
Upward Arrow

Strategic

engagement and solutions

Downward Arrow

Operational

engagement and solutions

Gear

Process

driven,

relevant, deliberate, functional, bespoke, control

Bull Horn

Consistent

communication

, communication

management

and

recognition, targeted / directed

Side Apertures

Bidirectional flow

of what is

taken into account

, both from within and from outside the business

Silver

Cutting edge, polished, forward thinking

Red

Marketing

is not the only, but it is a significant part of, the

business life-blood

Within Arrowheads

Operate

within your business

as part of the staff compliment (should you elect to go the outsourced marketing route)

Marketing

Our focus

encompasses the

full ambit of marketing

Head

Responsibility, accountability, capability, capacity

 Outsource

Financial model fostering extent of engagement as well as

pay-for-what-you-need
Our clients are across business, public and non-profit spanning the following industries and sectors:
Consumer & Industrial Products

Chemicals & Speciality Materials
Consumer Products
Industrial Products and Services
Retail, Wholesale and Distribution
Travel, Hospitality and Services

Energy & Resources

Financial Services

Banking & Securities
Insurance
Real Estate
Life Sciences & Health Care

Public Sector

Education
Public Transport

Technology, Media & Telecommunications

Technology
Media
Telecommunications
Their needs are all different. Our solutions for them are unique. But all share the same desire for high quality and effective marketing aligned to their organizational needs at a value relevant price.
Of The Clients We Have Assisted
Blog, News, Views & Reviews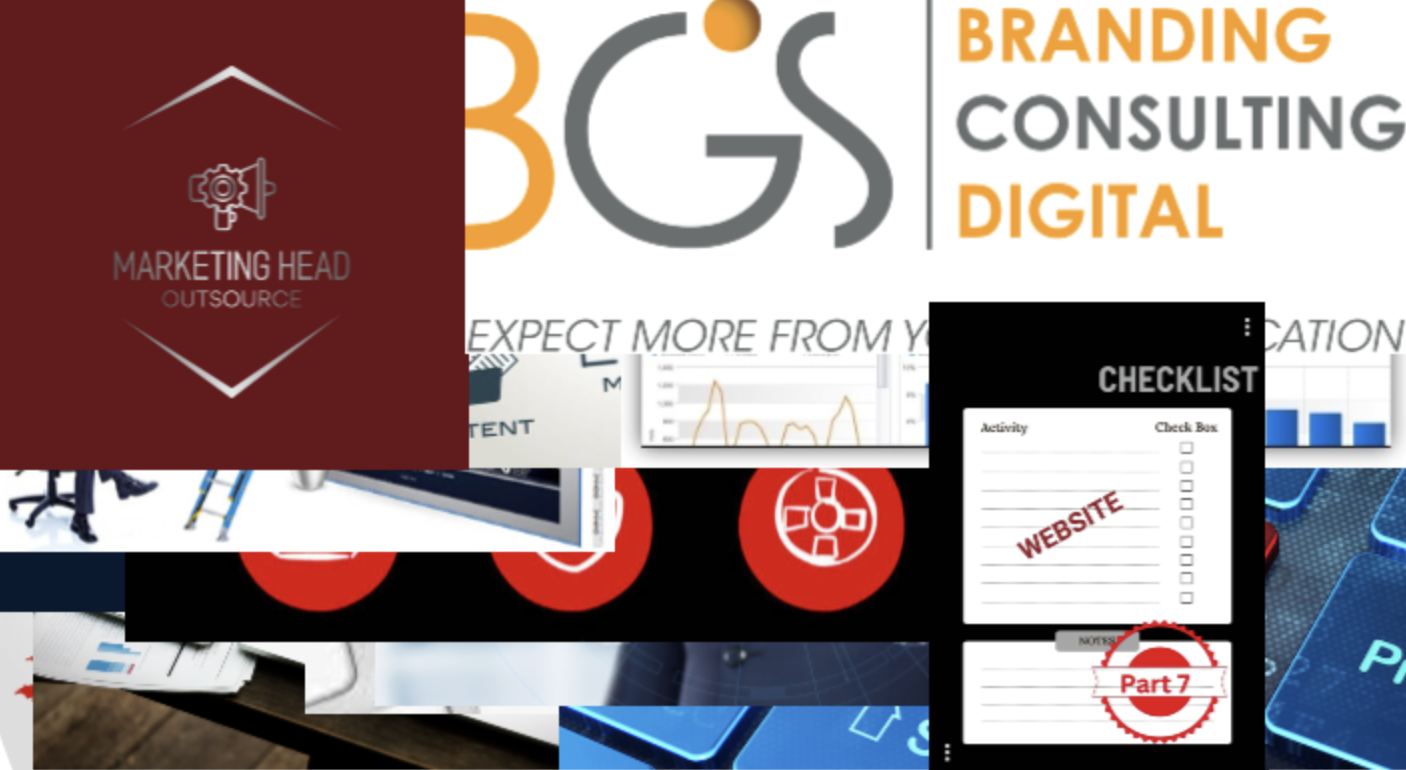 Views
Considering building, or re-building, your business website, or possibly want to make yourself aware of what is involved? Reference Resuming with Part 7 – Website
Read More »
Reviews
3G's & MHO received the following Google review from yet another satisfied collaborator. "A pleasure to work with Ricardo and team" #3GsDigital #3Gs #branding #consulting
Read More »
Views
Considering building, or re-building, your business website, or possibly want to make yourself aware of what is involved? Reference Resuming with Part 6 – Areas
Read More »
3G's Branding Consulting & Digital